phpBB2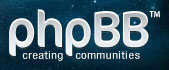 About phpBB

Standing for PHP Hypertext Preprocessor Bulletin Board, phpBB is an open source internet forum package developed using PHP programming language. Since its inception in 2000, phpBB has become the leading bulletin board solutions and the most widely used open source forum solution.
Some of the key features of phpBB:
Permission system.
Private messaging.
Search Functions.
Customizable templates.
Customizable language system.
Compatibility with multiple database system.
A large community of users providing free support and customizations.

Distributed under the GNU General Public License, phpBB is free software, developed by volunteers from around the world. phpBB is used on over 2.4 million commercial, non-profit, social networking and community websites in over sixty languages.

Latest version of phpBB – phpBB3 "Olympus"

Like all other phpBB versions, phpBB™ 3.0 "Olympus" has an easy to use administration panel and a user friendly installation process, which allows you to have a forum set up in minutes. PhpBB compliment your website with a large and highly customisable set of key features coupled with a standards compliant interface. The latest version, phpBB3 "Olympus", brings with it many advanced features such as custom bbCodes and profile requirements, support for subforums and attachments as well as an abundance of other commonly requested features.